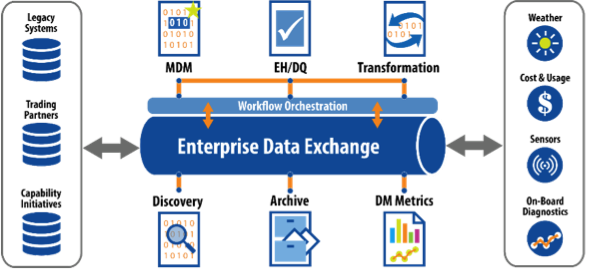 Enterprise Data Exchange
ILW is working with a government client to provide a capability that will enable the functional community to take full functional and process stewardship of all maintenance-related data sets.
ILW is undertaking a pathfinder initiative to exercise primary functional data use cases using an Agile methodology to construct an Air Force Enterprise Data Exchange (EDE). The EDE enables information exchanges between systems based on Department of Defense (DoD) Net-Centric data sharing principles and services aligned within the Air Force Information Technology (IT) Services Framework.
Lay the foundation for a robust enterprise analytics capability fed by high-fidelity datasets.
Provide a common set of data management capabilities.
Reduce point-to-point interfaces.
Increase sync of maintenance data sets as they flow between legacy systems and a to-be modernized solution infrastructure.



Master Data Maintenance
This inter-system data fidelity is based on standardized architectural patterns that provide common access to all corporate data.
Interested In Working With Us?